SEZ TECHNOPOLIS MOSCOW PRESENTED AT SEMIEXPO RUSSIA 2019
28

May 2019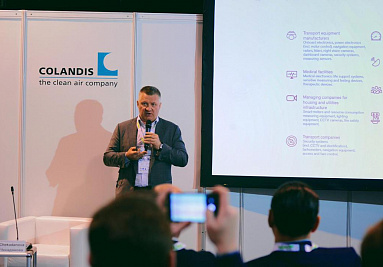 Igor Ischenko, SEZ Technopolis Moscow CEO, took part in SEMIEXPO Russia 2019.
SEMIEXPO is an international exhibition&conference on technologies, standards and equipment in the field of microelectronics. SEMIEXPO Russia 2019 unites the international specialized exhibition with the two-day business program that features heads and top managers of the largest microelectronic companies, authorities, representatives of research institutes and international associations. SEMIEXPO partner this year is the city of Dresden, known as the center of European microelectronics.
At a panel discussion titled The Development of Clusters and Technoparks. International Experience and Russian Projects Igor Ischenko presented SEZ solutions for microelectronics companies. Today SEZ Technopolis Moscow unites several dozens of industrial companies for design centers to component manufactures.
'SEZ infrastructure includes a solution kit for industrial companies such as clean rooms, ready-to-use brownfield units, greenfiled land plots with utility systems. Currently we are also building R&D and lab facilities. One of SEZ goals is to offer infrastructural solutions and ready-to-use industrial facilities that create favourable business conditions for microelectronics companies. In this relation we are definitely following the latest world trends,' Ischenko commented.
Other foreign experts also shared their solutions in business development for microelectronis companies: Dick Hilbert, Mayor of Dresden, talked about his city's experience, and Silicone Saxony Chairman Torsten Thieme presented his organization as a rapidly developing structure. 'Silicone Saxony today is a unique synthesis of industry and research with over 1,500 ICT companies and over 43,000 staff members', he said. Emir Demircan, Senior Manager Advocacy and Public Policy, SEMI Europe, commented on increasing worldwide interest in industrial clusterization and shared the international experience of SEMI.
Russian experts Tamara Rondaleva, Chief Executive Officer, St. Petersburg Special Economic Zone, Maria Chekadanova, Deputy General Director of R&P Corp Istok JSC , and Alexey Yartsev, GS Nanotech Technical Director presented their industrial sires to potential foreign investors.
'Lately there has been strong interest from China, Korea, and Japan towards the Moscow SEZ. Large European incl. German companies have long taken their place in Russian market. However we welcome the opportunity to create partner relationship with new players on the market as well. We shall be happy to invite European delegations to visit Technopolis,' Ischenko commented on the issue of international partnership.
Tenants of SEZ Technopolis Moscow also got a chance to exchange their experience with foreign partners and present their production at SEMIEXPO.
Crocus Nanoelectronics, a technological leader in Magnetoresistive Random Access Memory (MRAM) production, organized a session titled Russia as a Growing Market and Its Opportunities. The participants discussed the potential of Russian microelectronics industry for foreign partners and its technical capacity for developing unique solutions.
IVA Technologies, a Russian brand of ICT equipment and software produced by Hitech Group of Companies, presented IVA TPU - the first made-in-Russia Neural Processing Unit for acceleration of neural system computation. ESTO Research and Production Enterprise (its subsidiary company ESTO-INTEGRATION is a tenant of SEZ) also presented its equipment.
Mikron Group of Companies, the largest microelectronics manufacturer and exporter in Russia, expert center and technological leader of Russian semiconductor industry, took part in the business program of the event.
Photo: Timur Anikeev