Omsk Experimental Plant: purchase requisition from Bulgarian companies
21

May 2019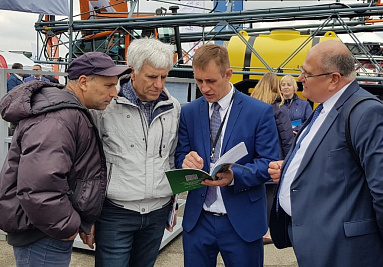 From May 14 to 17, Bulgaria held the largest international exhibition of agricultural machinery and equipment "BATA AGRO 2019". 235 companies from around the world presented their products on an area of more than 37,000 square meters. m. The exhibition was visited by more than 18,000 people. Russian agricultural machinery manufacturers presented their products at a collective exposition organized by the Rosspetsmash Association with the support of the Russian Export Center and the Ministry of Industry and Trade of Russia. Omsk Experimental Plant FSUE (Omsky Biocluster member) took an active part in the exhibition.
Dmitry Golovanov, Director of Omsk Experimental Plant FSUE, presented a new product at the plant's stand. The dialogue on the need to supply the scientific institutes of Bulgaria with selection equipment produced by the plant, as well as tillage and seeding machines, took place at a meeting with the Deputy Minister of Agriculture of Bulgaria Yanko Ivanov. Georgi Minchev, Chairman of the Board of Management of the Bulgarian-Russian Chamber of Commerce and Industry and Russian Trade Representative in Bulgaria Konstantin Artyushin, discussed with Dmitry Golovanov issues related to the peculiarities of market entry in Eastern Europe and interaction with Bulgarian companies.
Dmitry Golovanov also held meetings with heads of research institutes and representatives of agricultural organizations at the exhibition, as a result of which preliminary purchase requisition for Omsk Experimental Plant equipment were received.