M.Sutyaginsky spoke at a meeting of V.Putin with the business community
11

February 2019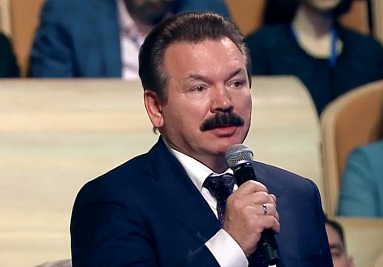 On February 6, Vladimir Putin, wthin the framework of the forum 'The Value of Business in Achieving National Development Goals' (organized by the All-Russian Public Organization 'Business Russia'), met with the business community. The event was attended by the head of Titan Group, a member of the Business Russia General Council, Mikhail Sutyaginsky.
The meeting discussed tools for stimulating business to achieve national development goals. "We support the export policy chosen by you, Vladimir Vladimirovich (Putin - ed.). But it is important for us that exports of value-added products be supported," said Mikhail Sutyaginsky. He stressed the effectiveness of the already existing tools for supporting non-primary exports, with a special focus on cooperation with the Industry Development Fund (IDF), but, according to the businessman, "this is not enough."
Mikhail Sutyaginsky reported to the head of state that the launch of new productions is planned in the Omsk region with the support of the IDF. Subsequently, it is planned to launch production at the next stages of the redistribution of raw materials, which will allow the development of new markets and not only. "These, among other things, are high-performance jobs and taxes. We want the vector to be focused on deep processing of raw materials inside the country," the founder of the Titan Group said (Titan-Agro LLC, Omsky Biocluster member, included in Titan Group). "The higher the redistribution, the greater the connection with other industries and the more jobs created," Vladimir Putin commented Sutyaginsky's statement. "In tourism, one job is created anywhere from four to five new places in related industries, and in your case, for sure, more is created," Putin said.

During the dialogue with the head of Titan Group, the President expressed his readiness to consider proposals for improving the existing tools to support non-primary industrial exports, "so as not to stop halfway". Recall that in June 2015, Mikhail Sutyaginsky already spoke with Putin within the framework of the XIX St. Petersburg International Economic Forum. Also the head of Titan Group was a member of the 'Vladimir Putin Online' in 2018.
Mikhail Sutyaginsky is the founder of Titan Group, a deputy of the State Duma of the Russian Federation V-th convocation. He is the initiator of the large-scale investment projects are being implemented in the Omsk region, including in the agro-industry.