Why Russian Special Economic Zones are attractive for foreign business?
1

July 2019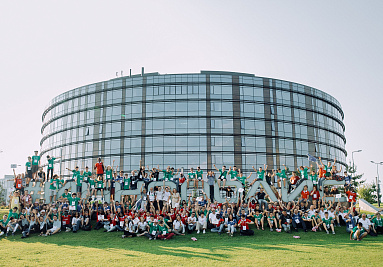 General Director of Resident company of SEZ "Innopolis" Portavita Evert Jan Hoijtink told about advantages of placement on territory of Russian SEZ.
- Short review of SEZ "Innopolis"
SEZ Innopolis strives to become the center of information and communication technologies in Russia, where the best innovative solutions are developed and implemented. SEZ Innopolis consists of two sections with a total area of 311.43 hectares located in Verkhneuslonsky and Laishevsky municipal districts of the Republic of Tatarstan. 80 residents and 11 partners are operating nowadays in SEZ Innopolis with a total investment of more than 8 billion rubles and 2 thousand jobs created.
- Short review of resident company
Portavita is an international eHealth company based in the Netherlands. Head office is located in Amsterdam, Netherlands. Amsterdam, the Netherlands. For over 17 years, our product - the Health Management Platform - provides diseases prevention, diagnosis, treatment, that allows to monitor and manage health and lifestyle.
The company's history began in 2001 and now it has 78 employees worldwide. In the Netherlands Portavita has about 70 clinics, in which more than half a million patients are treated all over the country. Another 12 clinics are located in Russia; they take care after 35,000 patients in Tatarstan and St. Petersburg. Now the company is at the final stage of the project implementation, according to which another 24 clinics will be opened in Tatarstan. Portavita is currently in the process to start amongst others in Archangelsk, Moscow, Dagestan, and Azerbaijan. In addition, Portavita is also exploring opportunities in France, Ireland, Indonesia, India and Abu Dhabi.
- How long are you cooperating with SEZ "Innopolis"?
I learned about Innopolis in 2017. It was during the preparation of our first pilot in Tatarstan with the Ministry of Health and ICDC Clinic. The Minister introduced us to the team from SEZ Innopolis. We made several visits to this new city and I decided to start a first team in Innopolis to research the possibilities for my company. In August 2017 a meeting was held in the Netherlands with SEZ managers in order to discuss Portavita receiving resident status.
Eventually on January 17, 2018, Portavita became a resident of the SEZ. Although we envisioned some difficulties that need to be resolved, I like Innopolis, I like to work and live here.
- What've attracted you in this SEZ? What are perspectives and advantages of residence in SEZ?
I like the idea how they keep students at Innopolis. After graduating, they have an opportunity to be employed by the SEZ residents. Most of our employees are students of Innopolis University. We have students from Kazakhstan, Turkmenistan, Bolivia, Ecuador, Brazil and of course from Russia. We provide the opportunity to get an annual internship in our company after the graduation. Our employees like to live in the city of Innopolis. They enjoy comfortable working and living conditions: office premises, social environment, great community. I think Innopolis is a good place for business development and it has great potential to attract more IT companies.
- How dialogue between residence company and SEZ management company is provided?
SEZ Innopolis has a messenger-based concierge service, which serves as an excellent channel for dialogue between residents and SEZ employees.
- What are special characteristics of Russian market?
We are ranked the first among IT companies in the Netherlands, but our domestic market does not have so much potential as Russian. I am eager to create the best IT business in the medical sphere, develop it, take it to the new level. That's why we decided to open our business in Russia. Russia has huge competent and well educated human resources potential.
- How did you enter Russian market?
It was two years ago. We were asked to write a business plan and present it to the President of the Republic of Tatarstan. It was interesting and fun experience. It took around 2 - 3 months for all the procedures to be done.