OmSAU shared experience of implementing joint European projects
25

September 2018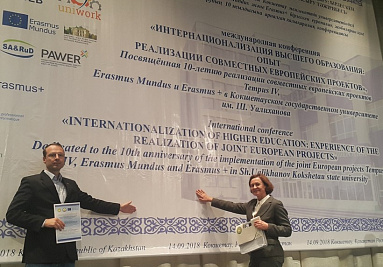 From 13 to 14 September the Akmola Regional Kazakh Music and Drama Theater became the venue for the 1st International Conference INTERNATIONALIZATION OF HIGHER EDUCATION: EXPERIENCE OF THE REALIZATION OF JOINT EUROPEAN PROJECTS, dedicated to the 10th anniversary of the joint European projects of Tempus IV, Erasmus Mundus and Erasmus +. Professor of the Department of Agronomy, Breeding and Seed Production Nina Kazydub and head of Department of Economics, Accounting and Financial Control, associate professor Oleg Blinov took part in the work of the congress from OmSAU (member of Omsky Biocluster).
Representatives of OmSAU shared with the participants of the conference Omsk experience in the implementation of joint European educational projects. Nina Kazydub was awarded for active participation in the coordination of European educational programs.
The conference participants paid special attention to the development and modernization of educational programs based on the principles of the Bologna Process in the areas of sustainable waste management and environmental protection, integrated water resources management, sustainable agriculture, the use of agro-technologies and the development of rural areas.